How does it work?
Forex Scalp EA automatic works on the MetaTrader 4 (MT4) platform.
Forex Scalp EA is a price action drive scalping robot. Do not depend on any indicator. It analyses all the forex price data to find the best entry point and the best exit point. Enter quickly and exit quickly to win trading in the forex markets.
Forex Scalp EA has a funds management system. It can make the money grow in the form of compound interest. It will automatically calculate the lot size of the orders base on the risk value. It also can set a fixed lot size of the orders.
Forex Scalp EA can trade all forex pairs. The best performance is these six forex pairs EURUSD, GBPUSD, USDCHF, EURGBP, EURAUD, and AUDCAD. It uses the same strategy for all pairs. The forward tests are as well as the test results. Forex Scalp EA takes one trade at a time per pair. Use a Fixed Stop Loss and Take Profit.
Forex Scalp EA also has a built-in dynamic closing mechanism. It can close the bad orders as early as possible before the price hit the Stop Loss line, which can reduce your loss. On the other hand, when the orders have profits, it will close the orders to get the biggest floating profit as the fastest speed when the market may have the adverse environment.
Forex Scalp EA does not require hedging. It is compatible with FIFO, the leverage only needs more than 1:20, so it is friendly with USA brokers and low leverage brokers. No Martingale No Grid. No minimum deposit required. The robot can start with any funds.
Forex Scalp EA Results
The following are the Forex Scalp EA trading results. The deposit is $200, trading from 2010 to 2017. From here you can see the strong winning power of Forex Scalp EA. Click on the chart to get the full trading statements.
EURUSD
$200 Deposit
$2,092,702 Net Profit

GBPUSD M5
$200 Deposit
$3,910,944 Net Profit

USDCHF M5
$200 Deposit
$4,169,682 Net Profit

EURGBP M5
$200 Deposit
$3,944,429 Net Profit

EURAUD M5
$200 Deposit
$4,858,742 Net Profit

AUDCAD M5
$200 Deposit
$5,646,169 Net Profit

Live Performance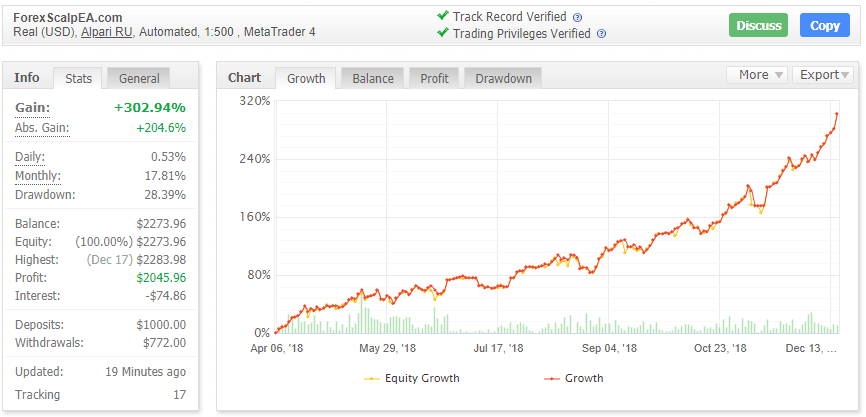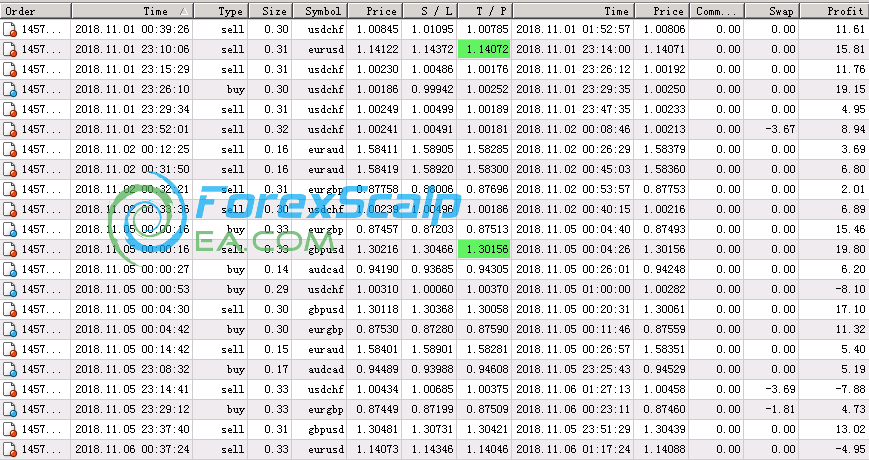 Reviewers
---
Good day! Very happy!
This is really a fully automated trading robot.
No need to spend much time on the trading.
I am also satisfied with the profit.
I have more time to do my things and enjoy life now.
Thank you very much!
Paulus
---
Hey:
This is a good robot. Thanks.
The profit is great and the risk is very low.
The win rate is high and the stop-loss pips are tiny.
I like it very much.
Thanks again.
Gustavo
---
Dear Team:
Thanks for your support.
It works well on my account now.
I trade the six pairs at the same time with 200usd in my account.
Ralf
---
Dear Sirs,
I used the automatic lots size management parameter. When I got the profit, my lots size also increased automatically, which helped me to get more profits. The important thing is that it's all automatic. I'm very happy.
Cheers,
RAUL
---
Pricing
Licenses
1

Trade Pairs
All Pairs

Support
24/7
Licenses
2

Trade Pairs
All Pairs

Support
24/7

One-time payment, working for you forever.Support Email: Support@ForexScalpEA.com
FAQS
Q: 1) How do I get the EA when my payment is successful?
A: After you complete the purchase, you will get the download link on our website immediately and will also receive an email which sent immediately by our system. One-time payment, working for you forever.


Q: 2) What's your Skrill account?
A: Our Skrill Account: Skrill@forexscalpea.com. Once you have paid, please let us know and we will send the product to you as soon as possible.